How to spend a perfect day at Dubai Mall
Posted By Geniefie Team Views 2214
As your Geniefie trip planner, we're here to craft the perfect itinerary for your day at the world-famous Dubai mall. From fashion boutiques to an ice rink, we've got all the elements to ensure your day is filled with excitement and delight. Let's curate a memorable experience where you can shop, skate, and indulge in all this iconic destination has to offer. Get ready to embark on an unforgettable one day itinerary!
10am: Breakfast at Aubaine
Start your morning over a hearty breakfast with a chic French twist at Aubaine, easily one of the most Instagram-worthy restaurants at Dubai Mall. Sit back, relax and enjoy classics such as the delectable pain perdu, freshly-baked buttery croissants, truffled scrambled eggs and poached eggs on avocado. Coffee connoisseurs can delight in the freshly-brewed blends crafted by Aubaine's talented baristas. Mornings never tasted so good.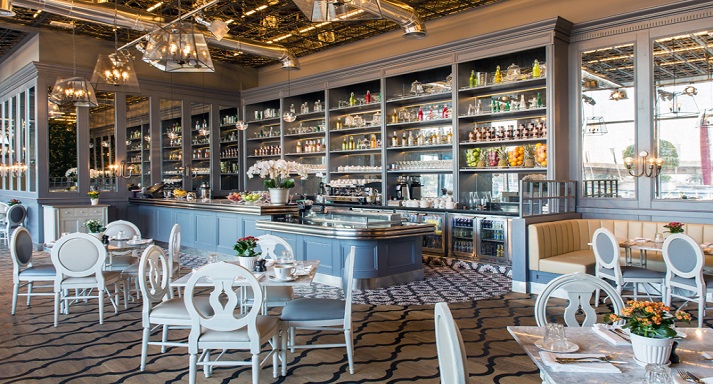 Must-try: Aubaine's fluffy pancakes drizzled with all things deliciously sinful.
Financial Centre Road – Downtown Dubai
11am: Explore Dubai Aquarium
Make your way to the mall's second floor and head towards the centre to arrive at Dubai Aquarium & Underwater Zoo. One of the largest indoor aquariums of its kind in the world, this aquatic home is a sight to behold. Walk through its 270-degree tunnel for a closer look at sharks, stingrays, octopus and over 140 other aquatic species gliding by. Upstairs is the Underwater Zoo where you can encounter live crocodiles, giant spider crabs and inhabitants from the rainforest.
Must-try: Brave a swimming session with the resident sand tiger sharks.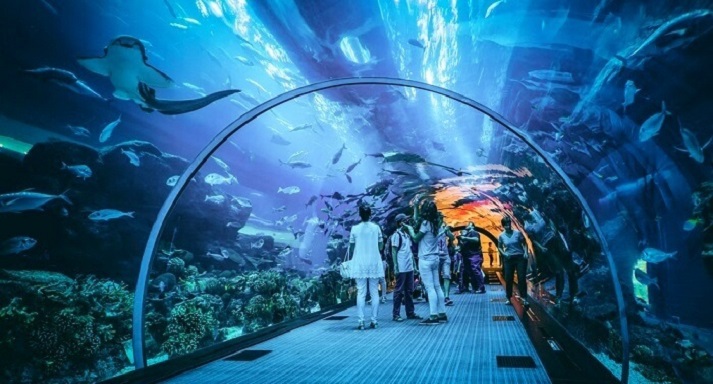 SIGHTS & ATTRACTIONS
Ground & Level 2, Dubai Mall – Downtown Dubai
1pm: Shop at Fashion Avenue
Now it's time to shop to your heart's content. Discover the latest collections from the world's hottest luxury labels, including Louis Vuitton, Chanel, Gucci, Max Mara, Valentino and more at Fashion Avenue. This fabulous fashion precinct features a number of VIP extras including porter services, an exclusive lounge to relax in and even its own 20m catwalk where you can channel you can channel your inner top model.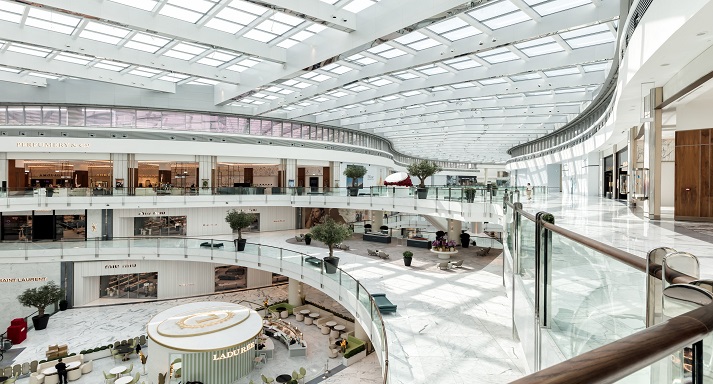 Must-try: Looking for a brand new look? Book a session with one of the Fashion Avenue's personal shoppers. 
Level One, The Dubai Mall, Downtown Dubai – Dubai
3pm: Dine at Le Gourmet
Tucked away in one of the city's largest department stores is a fantastic lunch spot. Le Gourmet at Galeries Lafayette takes visitors on a culinary journey across the world with 11 international kitchens serving up authentic specialities from Italy, India, Morocco and Japan to name just a few. While there, stock up on a few essentials from the speciality grocery which features a truffle corner, honey counter and cheese cave.
Must-try: Signature cuts cooked over charcoal in a Josper oven with Himalayan rock salt and served with a variety of sauces and sides.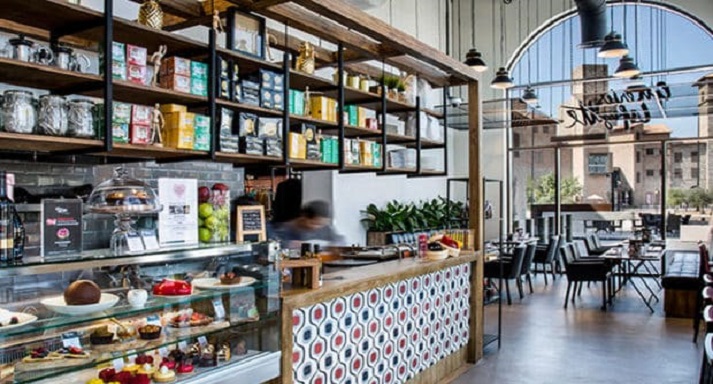 Second Floor, Dubai Mall, Downtown Dubai
5pm: Skate time
Show off your moves at the mall's Olympic-sized Dubai Ice Rink. Grab your rented skates and glide across real ice in the desert city. Feeling unsteady? Animal and snowman-shaped skating aids are available for beginners, and private lessons can be booked if you need a little help from a professional.
Must-try: Book a 'snowfall session' where the ice rink transforms into a total winter land with real snow flakes falling down.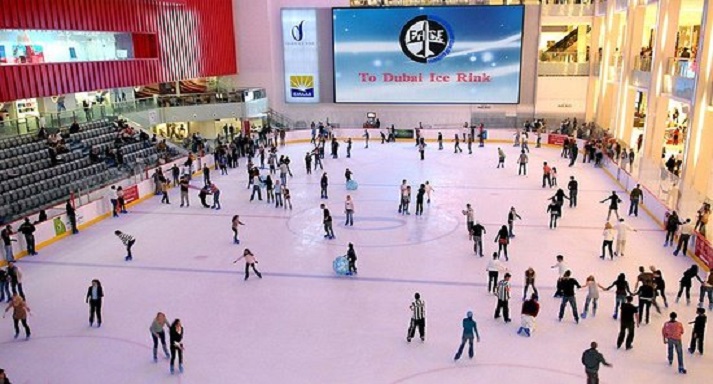 Financial Centre Road, Dubai Mall, Downtown Dubai, Dubai
6pm: Visit At the Top
No visit to Dubai Mall would be complete without a trip up the world's tallest tower, Burj Khalifa. Head to the At the Top observation deck at dusk so you can take in stunning 360-degree views as the sun sets, giving way to glittering nightscapes. Go one step further with the Burj Khalifa Sky premium experience. Perched 555m high, the outdoor terrace is officially the highest observation deck in the world.
Must-try: Relax over an evening tea or coffee at The Lounge on Level 152, complemented by fresh bakes and delicious desserts.  
8pm: Watch The Dubai Fountain
There's no wonder The Dubai Fountain is one the city's most popular (and much-loved) attractions. The captivating choreographed spectacle sees illuminated jets of water projected high into the sky, all to the beats of popular tunes, from Arabian classics to Michael Jackson's Thriller. With shows taking place every 30 minutes from 6pm onwards, crowds gather along the waterfront promenade daily, cameras at the ready.
Must-try: Combine dinner with a view at Souk Al Bahar. Book a table at the restaurant's terrace for prime views of the fountain.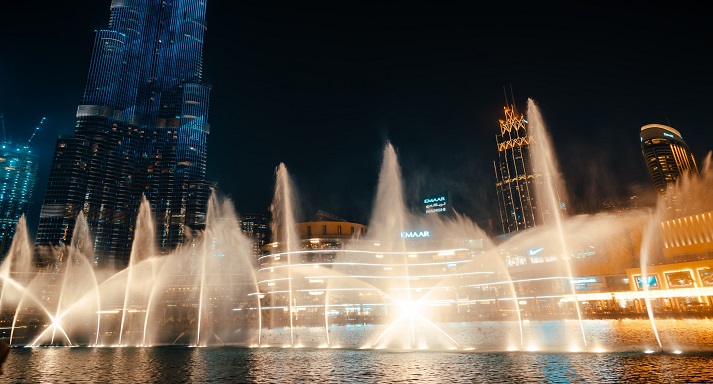 The Dubai Mall – Downtown Dubai
More in store
You've still just about scratched the surface, so it's worth planning a return trip to Dubai Mall for more fun and games. Pilot a virtual Emirates A380 at the ultra-modern flight simulator on the ground floor, or take a break to try on designer heels at Level Shoes, the world's largest shoe store. Little ones will also love playing dress up at KidZania, a sprawling interactive kids' city while older kids will like Play DXB for out-of-this-world experiences and rides.
Must-try: The Sole Lounge by Margaret Dabbs in Level Shoes has a range of fabulous treatments for happy feet.