Geniefie's Top Restaurant Picks for an Unforgettable Culinary Journey!
Posted By Geniefie Team Views 2359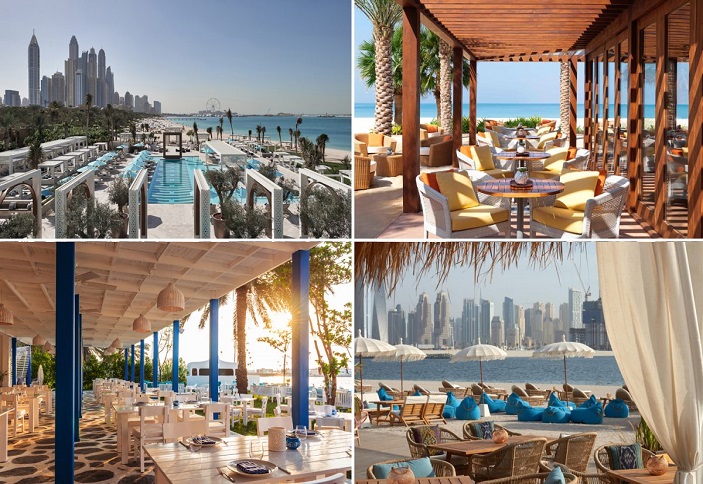 Are you a food enthusiast eager to explore the gastronomic wonders of Dubai? So lets Embark on an exquisite culinary journey through the glitzy streets of Dubai. Geniefie's intuitive interface starts by understanding your preferences, and tastes. Using cutting-edge technology, the app curates personalized restaurant recommendations tailored just for you. Indulge in top-notch dining experiences at the finest restaurants in the city, handpicked to suit every palate.
Let this itinerary planner be your trusted guide to savor the best flavors Dubai has to offer.
Ready to embark on a delightful culinary journey in Dubai?
Let's explore and discover where to eat in this vibrant city!
Tribes
If you're an African food enthusiast, Tribes is a name you can't miss! Founded by Kofi, this world-famous restaurant is a culinary gem, celebrating Africa's essence through artful flavors and design.
Tribes' enchanting ambiance, inspired by Africa's heritage and cultural fusion, sets
the stage for perfect dinner dates and photo-worthy moments. Capture the magic while savoring exotic flavors and creating memories.
Tribes has emerged as a beacon of cultural fusion, offering Angus burgers, strip loin, fish curry, Jamaican chicken, and mouthwatering ribs. Beyond the delectable menu, Tribes captivates with its elegant decor, breathtaking Dubai views, and impeccable service, creating a sensory-rich dining experience you won't forget.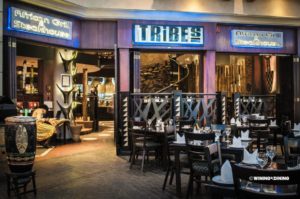 Visit Tribes at following addresses:
Address 1: Star Atrium, 2nd Floor, The Dubai Mall, Dubai, UAE
Address 2: 2nd floor, next to Vox Cinema Mall of The Emirates, Dubai, UAE
Address 3: Level 1, Dubai Hills Mall, Dubai, UAE
Zafran Indian Bistro
Welcome to Zafran Indian Bistro, an award-winning contemporary Indian restaurant in the heart of Dubai. Here, the essence of Indian culture, life, and passion is lovingly woven into every dish, rekindling cherished nostalgia. The menu is a symphony of India's diverse flavors, encompassing both beloved classics and revived forgotten cuisines from the country's various regions.
Named after the precious Indian spice, Saffron, Zafran presents a culinary experience that is simple yet exquisite. Carefully curated in their kitchen, each dish boasts the finest, locally sourced ingredients and a blend of home-made spices, paying homage to the rich blend of cultures and culinary evolution that inspires this establishment.
At Zafran, every visit is an opportunity to embark on an unforgettable gastronomic adventure, where the soulful flavors of India merge harmoniously with contemporary flair, leaving diners with a delightful taste of India's culinary heritage.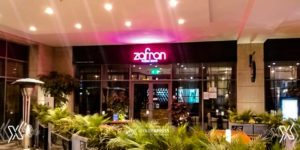 You can visit Zafran Indian Bistro at the following addresses-
Address 1: Dubai Marina Mall, Ground Floor, Exit 32 – off Sheikh Zayed Road – Dubai Marina – Dubai – United Arab Emirates
Address 2: Mirdif City Centre, First Floor – Dubai – United Arab Emirates
Eat Greek Kouzina
At Eat Greek, experience the freshest Mediterranean specialties and authentic Greek cuisine prepared right before your eyes in their open kitchen. Greek cooking, a culmination of centuries of living, cooking, and eating, presents an incredibly rich and diverse array of flavors, taking diners on a journey through Greece's history.
Eat Greek offers a taste of tradition with a focus on fresh, local seafood, hand-selected and expertly cooked to cater to individual tastes. Each dish invites you to savor the genuine essence of Greek and Mediterranean cuisine, a delightful and memorable culinary experience.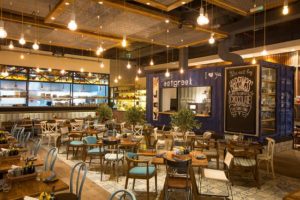 You can visit Eat Greek Kouzina at the following addresses-
Address 1: JBR – The Beach – The Walk – Dubai – United Arab Emirates
Address 2: Al Khail Rd – Dubai – United Arab Emirates
Address 3: Level 2, Mall of The Emirates – Sheikh Zayed Rd – Al Barsha – Al Barsha 1 – Dubai – United Arab Emirates
NAMMOS Dubai
Nammos Dubai, a hidden gem nestled in the picturesque Restaurant Village, invites you on a culinary adventure like no other, boasting a fusion of Asian and Mediterranean delights. Prepare to be enchanted by the exquisite array of flavors, from succulent meats to fresh Aegean seafood and delightful sushi nibbles.
Signature dishes like king crab legs, baked spicy crab maki, and salmon teriyaki on shrimp tempura wrap tantalize the palate. Savor the indulgent mushroom risotto and conclude with the divine Nammos chocolate mousse. Elevate your experience with fine wines and Champagnes.
Amidst stunning surroundings, Nammos Dubai guarantees a wonderful dining experience, where inventive Mykonian dishes and impeccable service meet breathtaking sea views. Immerse yourself in the brilliance of refined gastronomy, where each bite reflects the richness of Greece's culinary heritage, making every visit an unforgettable celebration of taste and elegance.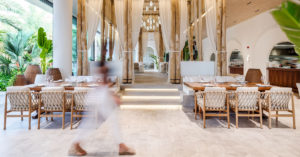 You can visit Nammos Dubai at this address-
Address: Beach, Four Seasons Resort – Jumeirah – Jumeirah 2 – Dubai – United Arab Emirates
Orfali Bros Bistro
Recently crowned as the top restaurant in the Middle East and North Africa by the prestigious 50 Best awards panel, Orfali Bros Bistro beckons food enthusiasts to embark on an unforgettable dining journey. Helmed by the talented trio of Syrian brothers – Mohammad, Wassim, and Omar Orfali – this restaurant is a delightful expression of their passion and love for food. If you're in Dubai, this culinary haven is an absolute must-visit!
Indulge in a wonderous symphony of tastes and textures, some dishes are Greek, others Asian-inspired and plenty Middle Eastern. Korea's chicken wings, wagyu beef dumplings, cheese pide, and umami eclairs, each infused with Syria's rich flavors.
Beyond chefs, they are a culinary family, weaving tradition and contemporary ideas to create art on the plate. Supporting local farmers, they deliver a fun and satisfying dining experience at their Bistronomy, celebrating the best of tradition and innovation with no stress and guaranteed delight.
We speak Food
Food is our language
WE ARE ORFALI BROS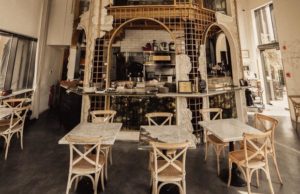 You can visit Orfali Bros Bistro at this address-
Address: D92 – Jumeirah – Jumeirah 1 – Dubai – United Arab Emirates
You can also find…..