Moon Lake
Posted By Geniefie Team Views 2368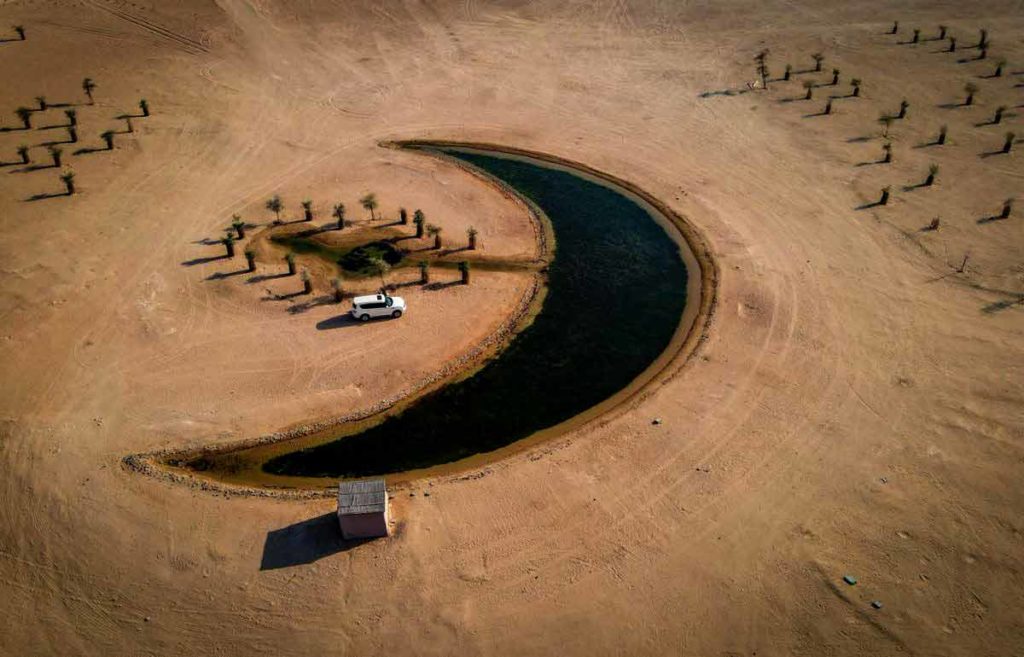 Moon Lake is a man-made lake located in the heart of the Al Marmoom Desert Conservation Reserve in Dubai, United Arab Emirates. The lake is a popular tourist attraction and a unique destination for nature enthusiasts.
Moon Lake was created by the Dubai Municipality in 2007 as part of a conservation project to promote sustainable tourism and protect the natural ecosystem of the area. The lake is fed by underground springs and is surrounded by sand dunes, creating a beautiful and serene setting in the middle of the desert.
The lake spans over 50 hectares and has a maximum depth of 3 meters. It is home to a variety of aquatic species, including fish and birds. Visitors can explore the lake by renting kayaks or paddle boats, or simply relax on the lake's banks and enjoy the stunning scenery.
In addition to the lake itself, Moon Lake also offers a range of other activities and facilities for visitors to enjoy, including walking trails, picnic areas, and a camping site. The lake is a popular destination for photographers, as the surrounding dunes and tranquil waters create a beautiful backdrop for photo shoots.
Specification Of Moon Lake
Location: Al Marmoom Desert Conservation Reserve, Dubai, United Arab Emirates.
Size: Over 50 hectares.
Maximum depth: 3 metres.
Water source: Fed by underground springs.
Surroundings: Surrounded by sand dunes and desert vegetation.
Wildlife: Home to a variety of aquatic species, including fish and birds.
Activities: Kayaking, paddle boating, walking trails, picnicking, camping.
Accessibility: Accessible by car and public transportation.
Entrance fee: Free of charge.
Facilities: Restrooms, picnic areas, camping sites, parking areas.
Other attractions nearby: Al Qudra Lake, Dubai Desert Conservation Reserve, Al Marmoom Bedouin Experience, Al Sahra Desert Resort, among others.
These specifications may vary depending on the season, weather, and management policies. Visitors are advised to check for updates before planning a visit to Moon Lake.
Facilities Of Moon Lake
Restrooms: There are public restrooms available for visitors to use, which are located near the parking areas and the camping site.
Picnic areas: There are designated areas for visitors to have a picnic or barbecue, which are equipped with picnic tables, benches, and trash bins.
Camping site: There is a camping site located near the lake, which offers basic amenities such as tents, sleeping bags, and fire pits. Visitors can rent camping gear or bring their own equipment.
Parking areas: There are several parking areas available for visitors, which are located near the lake and the camping site. The parking is free of charge.
Kayak and paddle boat rental: Visitors can rent kayaks or paddle boats to explore the lake. The rental includes safety equipment and instructions on how to use the equipment.
Walking trails: There are several walking trails that allow visitors to explore the surrounding desert and appreciate the natural environment.
Visitor center: There is a small visitor center near the lake, which provides information about the conservation efforts in the area and the different activities available.
Food and drinks: There are no food or drink concessions available on site, so visitors are advised to bring their own supplies.
Opening Hour
Open 24 hours a day, seven days a week.