Love Lake
Posted By Geniefie Team Views 2576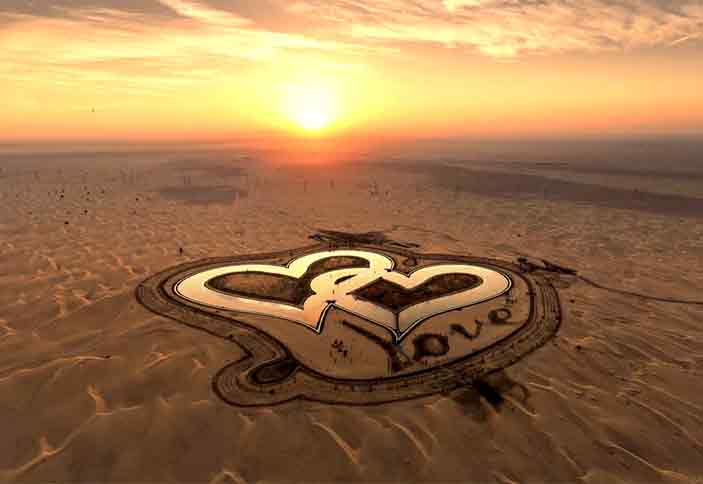 Love Lake is a popular tourist destination located in Dubai, United Arab Emirates. It is a man-made lake shaped in the form of two intertwined hearts, surrounded by beautifully landscaped gardens and trees. The lake covers an area of approximately 550,000 square meter and is filled with crystal clear water.
Love Lake is located in Al Qudra, which is a desert area about 20 kilometers from the city center. It is an ideal place for those who want to escape the hustle and bustle of the city and enjoy a peaceful and serene environment.
The lake offers several activities such as pedal boating, bird-watching, and leisurely walks around the lake. Visitors can also enjoy a picnic with family and friends in the designated picnic areas or grab a bite at the various food trucks and cafes located nearby.
Love Lake is open daily from 8 am to 10 pm and entry is free. It is a great place for families, couples, and friends to spend quality time together while enjoying the natural beauty of the surroundings.
Specification Of Love Lake
Location: Love Lake is located in the Al Qudra area of Dubai, approximately 20 km from the city centre.
Size: The lake is approximately 550,000 square metres in size.
Shape: Love Lake is heart-shaped, with two interlocking hearts that form the overall shape of the lake.
Water: The lake is filled with treated wastewater, which is used to irrigate the surrounding landscape.
Features: Love Lake has several features, including walking paths, picnic areas, and a viewing deck that provides panoramic views of the lake.
Wildlife: The Al Qudra Lakes area is home to a variety of bird species, including flamingos, herons, and egrets, which can often be seen around Love Lake.
Sustainability: The Al Qudra Lakes project was designed with sustainability in mind and incorporates several features to reduce environmental impact, such as solar-powered lighting and a wastewater treatment plant.
Facilities Of Love Lake
Pedal Boats: Visitors can rent pedal boats to explore the lake and enjoy the beautiful scenery.
Walking Trails: There are several walking trails around the lake, which are perfect for a leisurely stroll.
Picnic Areas: Love Lake has designated picnic areas with tables and chairs, making it an ideal spot for a family picnic.
Food Trucks and Cafes: There are several food trucks and cafes located near the lake where visitors can grab a bite to eat.
Restrooms: Clean and well-maintained restrooms are available for visitors to use.
Parking: Love Lake has ample parking space for visitors.
Bird-Watching: The lake is home to several bird species, making it an ideal spot for bird-watching enthusiasts.
Landscaped Gardens: The lake is surrounded by beautifully landscaped gardens and trees, making it a picturesque location for photography enthusiasts.
Opening Hour
Love Lake in Dubai is open to the public every day of the week, and there are no specific opening or closing hours for the lake itself as it is an outdoor, public space. However, it is recommended to visit during daylight hours for safety reasons and to fully enjoy the beautiful surroundings.
It's important to note that some of the facilities and amenities around Love Lake, such as the picnic areas or the viewing deck, may have specific opening and closing times. Visitors are encouraged to check with the local authorities or the official Love Lake website for up-to-date information on any opening hours, events, or activities. Additionally, it's important to follow any rules or guidelines posted at the site, such as avoiding littering or disturbing the wildlife in the area.